Can You Make Money from Your Hobby… Yes, You Can!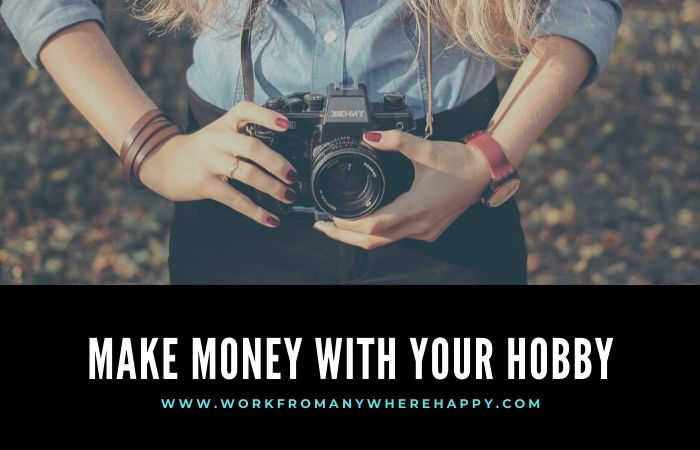 If you wonder if you can make money with a hobby you enjoy? The good news is that there are thousands of men and women who have turned their hobbies into side hustles. And some are making enough money allowing them to replace their full time job!
Hobby incomes is a dream way to make money for men and women all over.  Hobbiests can work from home or anywhere. And some enjoying a lifestyle of their digital nomad counterparts.
[toc]
In thiscan you make money with a hobby article, we take a look at 7 hobbies that you can easily turn into a side hustle or even a full time income. Use these inspiring ideas so you can finally find ways to make money from hobby so that you can work from home, choose your hours to have life… your way! Check these out…
Turn a Love of Writing Into Freelancing for Profit
If you love writing, then you've have several options to consider. One of the top ways that writers chose is starting a blog that they can monetize. Bloggers run the gammut from fashion to heath, Mommy baking, travel to tarantulas.
Then there are bloggers who pick topics they enjoy, review related articles to their topic and monetize them as affilates.
You can start a blog, you can do freelance writing (copy writing pays pretty well!), you can even write eBooks. You can even commission poems, wedding speeches, eulogies and sell these for a nice profit.
Photography
If you love photography, then you can make making money with this on trend hobby. Consider selling photos to stock photo websites. You can also work as a pet photographer or how about wedding on weekends. Another great way to make money is reaching out to people who will pay you to take high-quality pictures of their products, houses, etc.
Graphic Design
If you're more of a creative, into art and drawing, and you basically have a good eye for design. Then why not create and sell your designs at various marketplaces online. You can design t-shirts and sell on your online store. You can design logo's, social media graphics, icons, info-graphics, and various artwork on sites like Fiverr and get paid.
Singing
If you've got a good voice, you can sing in bars, clubs or restaurants. Or you can join a band and be their lead or backup vocalist. The possibilities really are endless if you've got talent. If you're not afraid of going on TV, you can join singing contests and win awards and recognition in the process!
Dancing
Some people are born with two left feet. If you're not one of them and you love dancing, then you can use your spare time to teach people how to dance! If you're really good, you can join plays and musicals, and even get small roles on TV. Or if you love the idea of making money while you travel check out jobs you can do – like be a dance partner on a cruise ship 🙂
Make Money With Your Crafts Hobby
If you love making any kind of craft, like crocheting, needlework, wood-working, candle making, etc. then you can make a lot of money with it! You can create and sell or you can teach others who want to learn what you know.
Crafts and tutorials the more poeple will pay for your crafts. Once you understand where to and how to target your audience you can make money. There are thousands of people who have learned  how to create a business around their crafty hobbies and never loo back.
Often, you'll find them at places like Etsy, but you can also reach them on Facebook and Instagram.
Learn How to Make Money With Your Crafts Today!
Voice Overs
If you have a good voice or have a knack for accents then doing voice over's is a great way to make that extra income. Video-making in demand which means opportunities for voice over services. You can set yourself up from home. Want to  learn more about voice overs then check out the voice training online here <==
In Conclusion of our article on Can You Make Money With Your Hobby?
If you're already enjoying making money from your hobby, congrats! The next steps is to consider earning how to expand and take our business to the next level, online.
Want to learn to build a website, start a business and make money online? Then you may want to check out how to get started online with a FREE account, all access for 7 days and 2 Free Websites 🙂